Jack Canfield doesn't just write about inspiration: he is one himself. From the thousands of Chicken Soup for the Soul stories tugging at our heartstrings to the motivational seminars urging us to be the best we can be, Canfield has paved a road to success that is both feasible and specific to each of our individual needs.
Chicken Soup for the Soul by Jack Canfield
Along with his writing partner Mark Victor Hansen, Jack Canfield made a name for himself with the insanely popular series in the nineties. That success continued on into the millennium, but the feel-good stories were a good way to make a name for himself.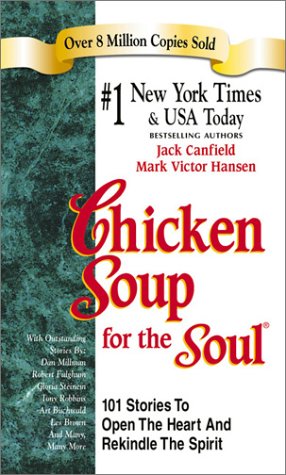 They were successful from the start, but why? It's not like he was writing about celebrities or CEOs or world leaders or any other really important people. But maybe therein lies the story of their success; not with the extraordinary personages we view only from the glossy magazine covers, but the everyday men and women; ordinary on the outside with the inner strength of David facing Goliath.
Jack Canfield took his healing home remedies to the next level by personalizing the inspiration. He targeted specific groups and – whether it was by age or profession or circumstance – the result is always a collection that restores our faith in the human race and leaves us on the brink of tears.
The Success Principles by Jack Canfield
Jack Canfield claims audaciously to increase your self-esteem and success using the principles he's lived and breathed all his self-helping life. It's not just a collection of good ideas though. Canfield specifies 64 principles that successful men and women have been using all throughout history. Filled with inspiring stories (because who doesn't like a nice cup of chicken noodle soup?) of CEOs, athletes, celebrities, and those extraordinary everyday men and women, Jack Canfield makes the game plan for attaining your goals; all you need to do is follow it.
Jack Canfield and the Individual
Success, like beauty, is all in the eye of the beholder. Jack Canfield is great about this whether it's Chicken Soup for the Soul or success and self-esteem seminars. He understands that your success might not be the same as Donald Trump's or Barak Obama's success and that's okay. What Jack Canfield is trying to help you realize is your fulfillment and your happiness, not anyone else's.